H2O Consulting provides expertise in Data Integration and Digital Transformation. We help you define your strategy and architecture for data storage and consumption. From storage to delivery, including scalability, flexibility, and modelling. Offer your data 5-stars services, from analysis, to architecture, to implementation.
From experience both in large organizations (in banking, public sector, telcos, publishing, new technologies) and with the full stack of data-related technologies (NoSQL, Semantics, XML, JSON, HTTP, RDF, MarkLogic, modelling), H2O can work on a large range of scales, granularity and issues to address.
You want to pamper your data? Improve its situation in your organisation? You are not sure where to begin, how to address it, or you are simply looking for extra hands to accomplish your plans? Contact us at info@h2o.consulting for further information. We are based in Belgium, but work worldwide.
Team
Florent Georges is the CTO of H2O Consulting. Thanks to our dense network of A-grade experts in various technologies, both in Belgium and abroad, we can also put a team up to address your specific needs.
You can look at Florent's resume, as well as the short version of it. You can also view Florent's LinkedIn profile.
Articles
For technical articles on NoSQL, MarkLogic, XML and Semantics, go to the full list.
Publications
Florent Georges gave several talks at conferences on various topics related to XML, XSLT, XQuery and EXPath, and collaborated on several books about SOA.
CXAN: a case-study for Servlex, an XML web framework, XML Prage conferences, Czech Republic, March 2011.
SOA with REST, Cesare Pautasso et al., Prentice Hall, reviewer between October 2010 and December 2010.
SOA Manifesto, Ali Arsanjani et al. September 2010, translated into French.
A packaging system for EXPath, Balisage: The Markup Conference, Canada, August 2010.
EXPath: Packaging, and Web applications, XML Prague conferences, Czech Republic, March 2010.
A practical introduction to EXPath: Collaboratively Defining Open Standards for Portable XPath Extensions, Balisage: The Markup Conference, Canada, August 2009.
A practical introduction to EXSLT 2.0, XML Prague conferences, Czech Republic, March 2009.
SOA Design Patterns, Thomas Erl et al., Prentice Hall 2009, ISBN 0136135161 July 2008.
Web Service Contract Design and Versioning for SOA, Thomas Erl et al., Prentice Hall 2008, ISBN 013613517X. Main technical reviewer, between February and June 2008.
Resources
Clients
We have experience in a large range of industries, from banking to public sector, from finance to telcos, from publishing to new technologies.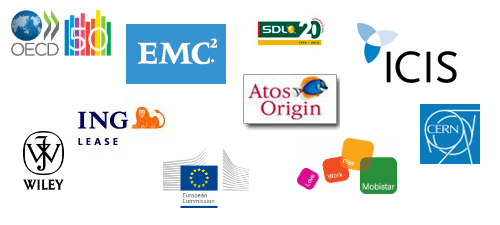 Affiliations
H2O Consulting is a member of the XML Guild, as well as is its CTO Florent Georges. Florent is an invited expert in the XSL working group at W3C. Florent is also a member of SuperNodes, the official group of experts of MarkLogic, the Enterprise NoSQL database.